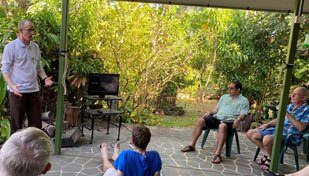 With encouragement from our recent menALIVE weekend and our brothers down south, Dirk Botha was the one to really get the ball rolling and started to get the word out into parish bulletins. I offered to be the contact person and Fr Dave Callaghan MGL offered a venue (Holy Spirit Parish in Casuarina) and a free breakfast! Still, the initial response was eerily quiet. Where were the men? Did they hear the call? Was anyone interested? None of us knew.
Still, the scheduled Saturday morning arrived and Fr Dave opened the presbytery gate and faithfully prepared the old BBQ for cooking. Dirk put on his best apron and the bacon and eggs began to sizzle. My job to cook the bread resulted in some very crunchy, charred toast which still proved to do the job. All this as the three of us resigned ourselves to a humble gathering and plenty of food to eat before streaming the Gathering.
What came next was a steady stream of men from near and far – ready for breakfast and a chat, but also with a curiosity about what was to come. We finally numbered about 16 strong as we scrambled for more food to cook to keep the newer-comers fed. With many a catch-up and new connections made, we headed over to Fr Dave's back porch to watch the first session of the conference.
All present were captivated with the quality presentations of the National Men's Gathering and perhaps the distinct sensation of tapping into something much '"bigger" than ourselves and the usual confines of our local horizons. The call we heard was to step up and make a powerful difference in our parishes, our city and our Church. The speakers brought us the inspiration of insight and a spirit of empowerment for a group of men who clearly know what is good, but sometimes fail to recognise the immense good we can do, as men of God, in our communities.
As we discussed the Gathering's topics and shared our own local stories, the communal cry was of what we can do. As lay and religious men, we felt encouraged and enabled – with a new vision for our place within the Church and the incredible contribution that only we can make. Now we pray for the inspiration, strength and initiative to continue on this journey together as dedicated, faithful servants of all – with Jesus to show us the Way.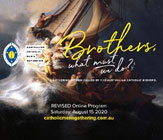 Words and images: Matt Bourke, Darwin
Catholic Men's Gathering website