Often regarded as the home of free speech, modern universities can be a place of many joys and some unique challenges for those wishing to propose Christ.
In Australia, Catholic chaplains are present in most universities, but their role and involvement in university life can vary greatly. The National Centre for Evangelisation recently spoke to university chaplains from a range of tertiary institutions, including Catholic, secular, urban and regional universities.
~~~~~~~~~~~~~~~~~~~~~~~~~~~~~~~~~~
A "veteran" of the Catholic chaplaincy community, Tony Mattar was still completing his university studies when he took on a role as an evangelisation officer at the University of New South Wales (UNSW) at the age of 21.
Reflecting upon his experience more than 12 years later, Tony says it took him some time to become accustomed to being a public witness to his Catholic faith in the university environment.
"After the second semester when I saw the need to be bold and brave about your faith … that's when it all changed for me," he says.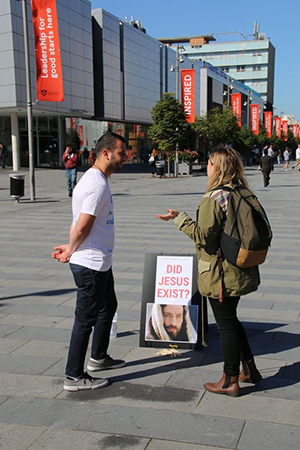 Tony's ministry as a university chaplain has encompassed four NSW universities – the University of Sydney, Macquarie University, University of Technology Sydney (UTS) and UNSW – each with their own distinct culture and challenges.
"Sydney and UTS were probably the two most hostile," Tony says. "You've really got to jump through a lot of hoops just to get an event happening on those campuses now without them questioning the nature of everything.
"Freedom of speech is very big on campus right now, where it's really hard to try and get a message across without being protested against, bullied or labelled in certain terms which are quite unreasonable and unfounded."
Nevertheless, Tony says university chaplaincy is a rewarding ministry that allows chaplains to accompany young, inquisitive minds in their journey for meaning and purpose in life.
"I think the greatest joy is actually hearing and meeting so many different students and staff that come from all walks of life and have a very mixed understanding of Christianity, and even many that have no understanding," Tony says.
"Those opportunities where we were able to journey with and invite them to learn about Jesus and his message were the most enjoyable in all my time, because you're dealing with a person who has a strong academic mindset, yet you're there to explain the simplest of teachings of Christ."
On the other side of the country, Perth's Tom Gourlay, the national director of chaplaincy and faith formation at the University of Notre Dame Australia (UNDA), says he's noticed a similar interest in matters of faith, meaning and purpose among students.
"The university context is a great place to be in order to share one's faith," he says. "Part of the great genius of Pope St John Paul II was to tap into the seemingly boundless aspiration of young people to greatness, and to challenge them to it."
At UNDA, Tom says the main challenge for chaplains doesn't lie in hostility towards religion, but rather in the high level of indifference and apathy towards religion.
"A great many of these clever young university students (and sometimes their teachers) present as merely bored to these deeper existential questions, or at least bored with the ways that they've seen them answered from the Church or people of faith," he says.
"The challenge, then, is to present faith in Christ Jesus as something radically 'other' than what they otherwise perceive it to be. This involves both personal witness, and the capacity to engage intellectually."
A second challenge for university chaplains, Tom says, is a "growing inability from young people to articulate and ask genuinely human questions", or questions of ultimate meaning.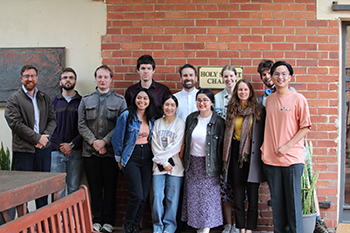 "Sadly, many university-aged young adults are already jaded, having lost hope that there is a reasonable answer to these deep questions, and so they are dismissed as childish," he says.
"Young people need to be shown or presented with the fact that Christianity is foremost an encounter with the person of Jesus Christ, an event in history, which happens through the mediation of His Church here on earth."
While there are obvious differences between secular and Catholic universities, there are some characteristics that university students seem to share more broadly. Karina Bohorquez, a member of the Marian Community of Reconciliation, has worked as a chaplain at both UNDA's Sydney campus and at UNSW over the past five years.
"In general, what I see is a lot of apathy, across the board," Karina says. "People have a lot of things on and it's not necessarily clear why religion should be a priority in a very tight schedule."
Although chaplaincy isn't at the core of student life at UNSW – as it is at UNDA – Karina says the secular university still provides good support to chaplaincy and has always allowed Catholic events on campus.
One of the major events organised by the chaplaincy is a Eucharistic procession, which Karina says is an incredible witness to the faith of the students involved.
"When we do the processions, it's really challenging because normally you're an anonymous Catholic on campus, but for the procession it's obvious that you are a Catholic," she explains.
"People find it funny, some people are really confused, others come and ask us if we have permission to do this. We're holding the canopy over the monstrance and we kneel at different points, so it's really a powerful witness, and the fact that students are willing to do that and willing to identify themselves, for me that's amazing."
Karina says her chaplaincy team seeks to create opportunities for dialogue and discussion, primarily by hosting a weekly coffee table gathering, offering students and staff free coffee and a chance to discuss anything on their minds or to ask questions.
"We have had very deep and meaningful conversations," Karina says. "We have had a couple of atheists come in and some people who have joined RCIA (the Rite of Christian Initiation of Adults) through that coffee table initiative."
Similarly, listening to questions, concerns and thoughts that young people have is a key part of the chaplaincy ministry in a regional university setting, according to Mary-Anne Deluca, a chaplain at the University of Newcastle.
"I think young people respond so well just to being listened to," she says.
"If you have a peaceful manner, you can really be open to what they're saying and try to understand where they're coming from.
"It's a marathon, not a sprint. We sow little seeds as we talk, and you might not convince them on that day, but who knows what's going to happen in their life and what God might do."
Although it has a policy prohibiting chaplains from proselytising[i], Mary-Anne says the university is supportive of chaplaincy and values its contribution to the lives of the students and staff.
"Our university has been good in giving us a pivotal position on campus," she says. "The chaplaincy centre is right near a café and one of the main bus stops; so we are visible."
Mary-Anne describes her work as a chaplain as a "ministry of presence and accompaniment".
"People know that the service is confidential and that it's a place of hospitality," she says.
"Should the faith question arise, and it does… you're there ready for that. You just have to see those little openings, those little opportunities, if they arise. You don't go and force anything, but if it just naturally comes, you're ready."
Despite the obvious challenges, the immense joy they receive from seeing the fruits of their labours is something every Catholic university chaplain treasures.
"To see people flourish, not just humanly speaking as they grow and mature, but also in their relationship with God, and love for God and understanding of the faith, is one of the greatest gifts and privileges of working in chaplaincy," Karina says.
We will explore the important ministry of university chaplaincy further in the February edition of The Bridge.
Images: Supplied
Words: Matthew Biddle
[i] Section 2 (9): https://policies.newcastle.edu.au/document/view-current.php?id=11