Sharing the good news at the peripheries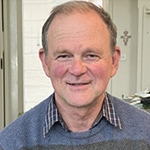 "I was in prison, and you visited me" (Matthew 25:36).
These words of Jesus are a source of constant inspiration for Tony Stuart in his role as a Catholic prison chaplain. Tony, who is based in Goulburn, New South Wales, has for the past three-and-a-half years been a familiar visitor to about 400 inmates at the local jail.