During October, while Australia was focused on the finals series of the AFL, netball, rugby league and union, each Thursday night I woke at midnight to join an international webinar exploring the Christian perspective of sport and human development. Presented by the Vatican's Dicastery for Laity, Family and Life, the webinars explored the value of sport in personal and community development, opportunities for sports ministry and how the Church can be part of the re-animation of sport beyond COVID-19.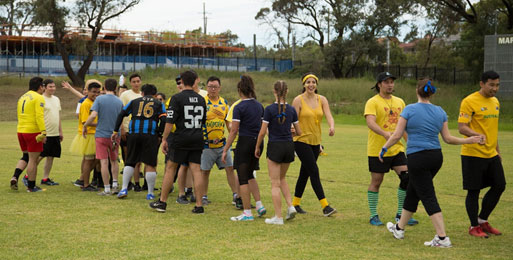 Like many other countries, Australia is passionate about sport. But how are the Church, faith and sport connected and why should they be?
Whether competing, supporting or encouraging play for health, sport is part of our family and social life. In sport we experience community and teamwork, sacrifice and dedication, the benefits of rules and fair play, the highs of success and the learnings that come with defeat. We learn from coaches, parents and friends as we put in the extra effort to train or to attend games. Sport forms us not only in the skills of play or competition, but in life experiences that form our personal human development.
"The Ecclesial Community sees in sports a powerful instrument for the integral growth of the human person. Engaging in sports, in fact, rouses us to go beyond ourselves and our own self interests in a healthy way; it trains the spirit in sacrifice and, if it is organized well, it fosters loyalty in interpersonal relations, friendship, and respect for rules"
Pope Francis, Address to members of the European Olympic Committee, 23 November 2013
Sport also reflects our society. It creates solidarity and equality, bringing together people from diverse backgrounds, cultures, abilities and beliefs for a communal purpose and experience. However, it can also reflect issues of discrimination, economic gaps, bullying and the challenges of mental health. Through these experiences sport builds resilience, critical thinking and provides lessons and heroes that show us a different way of being.
Sport can also provide us with examples of purity and joy – not only through a win, but by doing our best individually or as a team, or that feeling of being "in the zone". These moments can be spiritual as we fulfil God's call to be our best selves
"To give the best of oneself in sports is also a call to aspire to holiness."
Pope Francis, Giving the Best of Yourself; a document about the Christian perspective on sport and the human person, 2018.
These skills and experiences learnt in sport are not different to the spiritual disciplines needed in our Catholic faith. Dedication and discipline, guidance and mentoring from others, fairness and justice for all, and regular practice is needed to hone our relationship with Christ and live out our faith each day.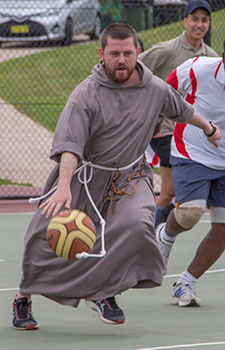 What these recent webinars highlighted is the extensive Church teaching on sport and human development, and those who are passionate and working in this area. This was highlighted in the question time at the end of each seminar where speakers, coaches, athletes and ministers discussed the pastoral application of sports ministry. (I have provided links to the webinars and some additional resources at the end of this article.)
So, if Australia is so influenced by sport, why does it appear the Church and our evangelisation strategies are so distant from it?
In Australia, there is limited coordination of Catholic sports ministry, however there are strong efforts from our bishops and local ministers. The Australian Bishops' 2014/15 Social Justice Statement A Crown for Australia was focused on sport and explores Church teachings and local sports experiences. There are also a number of sports chaplains, coaches and some academics who utilise their roles to enhance ministry opportunities in local sporting communities and some professional clubs. Unfortunately, there is limited opportunity, if any, for these people to gather, dialogue and enhance this obvious field of evangelisation.
Like many aspects of the mission of the Church, it is difficult for ordained leaders in the Church to lead the way into such mission fields. It is up to the laity to carry the Gospel carefully and respectfully into the world. Starting at the local level and with passionate collaborators, our Church communities have a role and opportunity through sport to evangelise.
Our first role as Catholics in sport is being a Christian witness in our practice as players, coaches, managers, officials and parents. Beyond participation, Australia has seen a number of youth and young adult ministries or rural outreach strategies where sports programs have been utilised in the spirit of evangelisation or social justice. Our schools have comprehensive sports programs that, in some cases, see students go on to professional sporting careers. In these moments it is crucial to remember each sporting encounter offers an opportunity for evangelisation either in witness or word.
"I would like to emphasise the role of sports as a means for the mission and sanctification. The Church is called to be a sign of Jesus Christ in the world, also through the sports practiced in parishes, schools, and associations... Every occasion is good for announcing Christ's message, 'whether the time is favourable or unfavourable' (2 Tm 4:2)... Sports can open the way to Christ in those places or environments where, for different reasons, it is not possible to announce Him directly; and people, with their witness of joy, practising a sport as a community, can be messengers of the Good News."
Pope Francis, Giving the Best of Yourself, a document about the Christian perspective on sport and the human person, 2018.
If the Church in Australia were to focus and hone its development of sports ministry, the broader evangelising implications would be significant. Furthermore, from the essential personal and community developments, sport's evangelising reach into the peripheries and potential witness by committed Catholic athletes would provide new avenues of taking the Gospel into the world. Our Church has the teaching foundations, our schools and parishes have existing infrastructure, and there are stories of impact from around the world from which we could draw inspiration. Our next step is dialogue on existing and potential strategies and further promotion of this evangelising opportunity for communities, players, parents, coaches and the Church.
The Church has a deep tradition of sport and faith integration. In Australia, where sport is often considered a religion, we seem afraid to step forward into this obvious mission field, seemingly concerned we are proselytising from another faith. We require a sound understanding of evangelisation to see the opportunities of personal accompaniment and witness that present themselves through sport, adding to the already identified benefits to human and community development.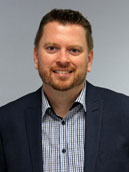 For national dialogue to occur, more local practitioners are required and stories must be shared. So how can you consider sport as an evangelisation strategy in your community? Maybe some of the resources below can help you to discover the value of sport in spreading the Gospel.
Malcolm Hart is the Director of the National Centre for Evangelisation and the Catholic Enquiry Centre. He can be contacted via This email address is being protected from spambots. You need JavaScript enabled to view it.
Images: Parramatta Diocese, 2018 Lifted Sports Day, including Fr Benedict MacKenzie FSF, Youth Coordinator, St Bernadette's Parish, Dundas Valley playing basketball
Links:
Recent Webinars:
Useful publications:
Catholic Church, & Pontificium Consilium pro Laicis. (2008). Sport: An educational and pastoral challenge. Seminar of study on the theme of sport chaplains, Vatican, 7-8 September 2007. Libreria editrice vaticana.
Kelly, P. (2012). Catholic Perspectives on Sports: From Medieval to Modern Times. Paulist Press.
Kelly, P. (Ed.) (2015). Catholic Perspectives: Youth Sport & Spirituality. University of Notre Dame.