Speakers and topics continue to be confirmed for the upcoming national evangelisation conference, dubbed "Evangelise", to be hosted by the Bishops Commission for Evangelisation, Laity and Ministry.
Brisbane's Clare Schwantes (Liturgical Formation of the People of God), Perth's Derek Boylen (Marriage and Family), Parramatta's Qwayne Guevara (Young Ministry Post-COVID) and Wilcannia-Forbes' Sr Elizabeth Young RSM (Rural and Remote Community Ministry) will all host keynote presentations during the online conference from October 20 to 22.
Bishops Commission chair Archbishop Christopher Prowse and vice-president of the Plenary Council Bishop Shane Mackinlay will both present live sessions as part of the conference.
On the evening of October 20, Bishop MacKinlay will discuss the future for the Church after the Plenary Council, before a panel of local Catholics will share and respond in light of local realities.
The next morning, Archbishop Prowse will explore evangelisation in a synodal way for today's Australia, followed by testimonies and dialogue between local leaders.
Each live plenary session will be held in a different location around Australia, showcasing the experience of the Church in Australia. Following each plenary session, participants will select from a variety of live keynote addresses, featuring more in-depth formation and dialogue.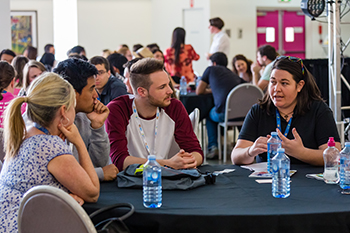 Director of the National Centre for Evangelisation Malcolm Hart said all Catholics were invited to participate in Evangelise, which will feature some of Australia's leading theologians, ministers, missionaries and pastoral leaders.
"Evangelise brings current and inspirational formation to all Catholics via its online format," he said.
"Evangelise has been made affordable for all through a generous donation which will subsidise the conference. Individual registrations are $25 each or a community can purchase five registrations for $100, allowing a combined local experience for a variety of local ministries.
"Best encountered in a community setting with local dialogue, the conference also allows individuals and families to be a part of the experience with afternoon and evening sessions online."
Registrations for Evangelise will open soon and will be available with a range of resources and updates at www.evangelisation.catholic.org.au.