Bendigo Catholic Eddie Davies is a man on a mission, aiming to spread devotion to the Rosary and encourage Catholics to read and reflect upon the daily Gospel, as he travels around Australia in his caravan.
The 79-year-old spoke to the National Centre for Evangelisation during his current trip from Bendigo to Armidale, New South Wales, where he will arrive later this week.
Hailing from County Down, Ireland originally, Eddie's faith journey is a story of its own. Raised in a Catholic family, Eddie drifted away from his faith in his early 20s, only returning seven years ago.
"I was a lapsed Catholic for 50 years," he explains. "But 20 years ago I came down with Meniere's disease, which is incurable, and I couldn't work.
"I went to Knock in County Mayo, Ireland, and I went into the church there where the apparition of Our Lady took place and prayed… I didn't stay very long.
"That was over 20 years ago, and I haven't had a Meniere's attack since."
Eddie says his healing was the start of a slow, gradual return to the practice of his Catholic faith. After moving to Eaglehawk, Victoria, he started going to the local Catholic church, St Liborius Parish.
"The parishioners there were so welcoming, it wasn't long before I was joining different groups," he says.
"And then about two years ago, I got this urge to share. Once you feel the love of God, you have this inner need to share it. You can't keep it to yourself."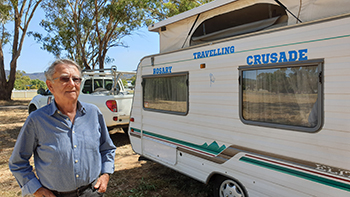 While some choose to evangelise through their workplaces, sporting clubs or online, Eddie decided to put his rarely-used caravan to good use.
"The idea just came into my head, to go out and teach, like the apostles," he says. "The caravan used to sit outside the house for years before I'd decide to go away again. It just came over me, this urge that I had to do more."
Named the Travelling Rosary Crusade, Eddie now plans lengthy trips around the east coast of Australia, stopping at towns to pray the Rosary and, sometimes, to speak at a parish gathering and distribute prayer resources.
Eddie's ministry also includes being a visible witness to his faith when he stops at caravan parks, where he is sometimes approached by other travelers. Recently, a Presbyterian minister noticed Eddie's caravan parked in Temora, NSW, and the pair discussed their faith at length and read Scripture together.
"My aim is to spread the Rosary and to encourage people to read the Gospel every day," Eddie says.
"I try to bring the love of God to those most in need along the highways and byways, at the same time praying with and encouraging Catholics to continue their journey with Jesus.
"I started off doing a Rosary in the park event… you'd get 15 to 20 people and I would lead them in the Rosary and then I would give a bit of a talk about my faith journey, I'd try to encourage people who were just on the edge or just coming back that it's never too late."
Parish priest of St Liborius Church, Fr Stephen Bolling, says he has been impressed by Eddie's faith and initiative to independently evangelise and encourage Catholics in their faith.
"He was a lapsed Catholic for 50 years, and he now just wants to share the joy he has rediscovered in his faith," he says.
"I think Eddie's approach demonstrates a great spirit of humility and dependence on God to guide his work and make it bear fruit.
"Ultimately, turning hearts towards God is the work of the Holy Spirit, we are just the instruments. So we should not underestimate what God will be able to bring about through us if we prayerfully and courageously share our faith."
A member of the Knights of the Southern Cross, Eddie believes meditating on the mysteries of the Rosary is a simple way for people to begin reading the Bible more, which can have a profound impact on one's life.
"Once you start reading the Gospels and you're looking at pictures of Jesus suffering on the cross… it's life-changing," he says. "I can't stop learning now and educating myself."
To follow Eddie's travels, visit the Travelling Rosary Crusade Ministry Facebook page.
Words and image: Matthew Biddle