Helene O'Neill admits that when she was a child, she would choose to play sport rather than attend Mass before school with her brother. Now, she's seeking to share her Catholic faith with the multitude of people who devote their Sundays to physical exercise.
"I believe a lot of people have replaced faith with sport," Helene says. "Our parishes are shrinking while sports get bigger. People are searching for community, respect and love."
With that search taking most people to the local ovals and courts, Helene believes sporting clubs have become a fertile ground for evangelisation. It's a sentiment shared by Pope Francis, who wrote in 2018, "Sports can open the way to Christ in those places or environments where, for different reasons, it is not possible to announce Him directly; and people, with their witness of joy, practising a sport as a community, can be messengers of the Good News".[i]
Sport has always held an important place in Australian culture, and it now seems to dominate the lives of many. Research in 2019 showed that, on average, Australians spend more than five hours per week participating in or watching sport, compared with just 35 minutes per week participating in religious activities[ii].
For Helene, a self-confessed sports junkie, Australians' obsession with sport presents a fascinating challenge – to bring faith into the sporting arena and to reach those who seek fulfillment, purpose and meaning from their sporting endeavours, rather than from their relationship with God.
"I could never understand how faith, fitness and sport could be connected," she says. "Then I went and did a sports chaplaincy course and I really got it then.
"The examples we used in the course to illustrate chaplaincy techniques were actual sporting moments complemented by Bible and Scripture quotes, hence the lightbulb moment."
In her role at the Diocese of Maitland-Newcastle as family ministry coordinator, as well as in her capacity as a chaplain to the local surfing club, Helene says she has a wonderful opportunity to help others connect sport and fitness with faith.
"Through the chaplaincy, everywhere I go, I meet families in our schools," she says. "It's a great opportunity to give witness and to show the kids that you have a balance in your life.
"I think we reach people by speaking to them, listening to them, asking them what their interests are… it's that whole ministry of presence that's the important thing for me."
Sport and physical exercise, Helene says, have numerous benefits for an individual's physical life, as well as presenting opportunities for growth in virtue.
"Sport is a really good testing ground because it's there to teach you lessons in life, just like our faith does," she says. "But you can be let down in both. Sometimes you can neglect your faith life and sometimes you can neglect how you should behave on the field or the court as well. I see very close parallels."
The Church is aware of these opportunities, as demonstrated by the words of Pope Francis in 2018:
"The Church values sport in itself, as an arena of human activity where the virtues of temperance, humility, courage, patience can be fostered and encounters with beauty, goodness, truth and joy can be witnessed. These kinds of experiences can be had by people of all nations and communities from across the world irrespective of the standard or level of sport."[iii]
Sport has been a major part of Helene's life from a young age and, indeed, in the life of her family. One of her cousins played rugby league for Australia and an uncle played Sheffield Shield cricket. Growing up, her sporting interests were wide-ranging.
"We lived in Broadmeadows, and on one side of the railway track was the badminton hall, on the other side was the squash centre and behind was the tennis centre, so I just went between them all," she recalls.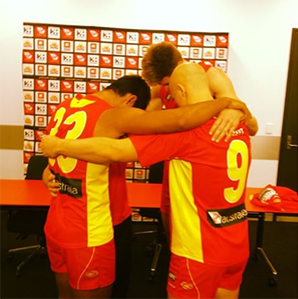 "When I was in year 10 I was selected in the New South Wales badminton team, so I left school to play sport. Even though I played around the country, I always went to Mass wherever I was and people were fascinated that I would take time out to go to Mass."
Her advice for schools looking to connect sport with faith is to explore innovative ways to bring aspects of faith into sporting activities, as well as to invite Catholic athletes into classrooms.
"Get some of those players into your schools, particularly the ones who have maintained their faith," Helene says.
"I did that with a couple of Newcastle Knights players and we had a faith and footy program. These people aren't just there to sign autographs on a Sunday afternoon, they're quite passionate about their faith at times, so I think there's an opportunity there."
For parishes, Helene says she wants to encourage people to "have a go at something different".
"If knitting clubs are a part of parishes, why can't sports be?" she says.
"I reckon if Jesus was down here, he'd want to have a game. He'd probably play for Jerusalem FC."

Words: Matthew Biddle
Images: Diocese of Maitland-Newcastle; Instagram @garyablettjnr: https://www.instagram.com/p/ZcWhSgJPt_/
[i] Letter sent by the Holy Father to the Prefect of the Dicastery for the Laity, Family and Life to mark the publication of the new document of the Dicastery: "Giving the best of yourself: The Christian perspective on sport and the human person": https://press.vatican.va/content/salastampa/en/bollettino/pubblico/2018/06/01/180601b.html
[ii] https://mccrindle.com.au/wp-content/uploads/images/Australia-the-sporting-nation.pdf
[iii] Letter sent by the Holy Father, op. cit.