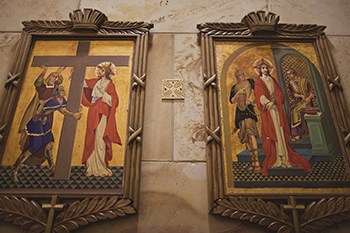 A common element found in most Catholic churches around the world is the "Stations of the Cross". There are usually 14 stations, each one represented artistically on the interior walls or in the grounds of the church. The stations depict the final hours of Jesus' life and his death.
As this issue of Faith Journey arrives in your inbox, the Catholic Church is commencing Holy Week. It is during this time we reflect on Jesus' journey to the cross on Calvary. In his journey, Jesus suffers hatred and abuse from the crowds, he is crowned with thorns, physically tortured and forced to carry his own cross, to which he is nailed and hung between two criminals and left to die. It's a brutal story.
As you gaze upon the Stations of the Cross – and I encourage you to do so if you haven't had the opportunity to do so before now – you become aware of just how human Jesus was. When we see Jesus' suffering, we are drawn to reflect on our own journeys or seasons of suffering. We can say to ourselves, with confidence, "Jesus knows what I'm going through". For many people, there is great consolation in the knowledge that Jesus, who is God, knew suffering.
The journey of Holy Week leads us to Easter and the miracle of Jesus rising from the dead. How does this triumph over death resonate with you? In your own journey of suffering, have there been moments of triumph or glimpses of light at the end of the tunnel? Maybe in hindsight you can see moments of love and tenderness where friends and family walked with you through your suffering – through your own holy weeks.
To help you reflect further, we have provided some online versions of the Stations of the Cross below. We invite you to walk with Jesus on his journey and pray that you sense him close to you, as you continue yours.
For your reflection:
Stations of the Cross by St Alphonsus Liguori YouTube
Pray the Stations of the Cross, Archdiocese of Cincinnati
Way of the Cross, Catholic Online
Image: Lightstock
Words: Sharon Brewer