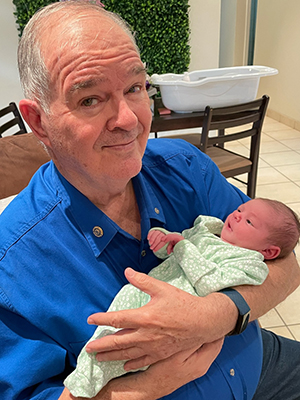 In September, the National Centre for Evangelisation interviewed Terry Lees from Mount Isa. Terry is well known in his local community and has been described by Bishop Timothy Harris in the following way:
"Terry in my view is an extraordinary individual and a person whose faith underpins his every word and work. His writings and reflections are a testimony to a man driven by the Holy Spirit. Terry is a delight to speak with and one who is ever ready to share his smile and warmth with everyone."
Timothy J Harris, Bishop of Townsville
We put the following questions to Terry (you can also hear Terry's interview via the video links below).
Could you share with us a little bit about your Catholic journey?
I once was lost but now am found, was blind, but now I see.
Amazing Grace - John Newton
I am a cradle Catholic, with education by Joeys nuns in primary and Marist Brothers in secondary. I spent the last four years in Juniorates in Bowral and Mittagong as preparation for religious life. Health issues prevented me from advancing to the Novitiate. I slowly drifted away from the faith in my adult years — about 27 years away. A traumatic life event at age 60 was a gradual turning point, and within 14 months I became a practising Catholic again. And a new and exciting spiritual adventure began.
Could you share with us a little bit about your family?
I have been married to Pattie for 52 years. We have two daughters, two sons, 12 grandchildren, three great-grandchildren. We have lived in Mount Isa in outback Queensland for more than 45 years.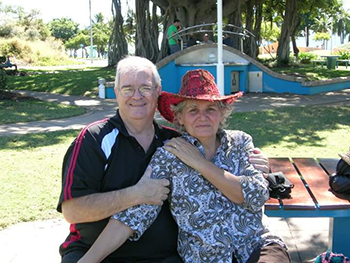 Pattie is a remarkable woman and a legend. She is of Aboriginal and Torres Strait Islander (ATSI) descent with an Australian-Irish father. She is a Stolen Generation survivor and lived on Palm Island. She was one of the first Queensland ATSI women in the Women's Royal Australian Naval Service. She is CEO of an Aboriginal corporation, an activist and published author.[1]
What sort of work and ministry have you been involved in?
I have been involved in the media since 1964, having worked in radio, television and print, in the areas of leadership, management, sales, promotions, training and on-air presentation. I was a regular contributor of articles to The Catholic Leader (Queensland) since 2014 and, from January 2017, I've written a fortnightly column called Gold in the Dawning Sun. Since 2019, I've been doing a daily segment on Radio MOB-FM 100.9 in Mount Isa called Silver Linings, which offers spiritual suggestions for a balanced life.
In recent years I have spent four years as a school chaplain, worked in spiritual ministry in the Townsville Diocese and two years in Catholic social services. I've also been involved in real estate conveyancing, consulting, public relations, promotions, business development and public service.
I'm very involved in my parish, Good Shepherd Mount Isa. I contribute to the Lost and Found: Ministry of the Shepherd website, the Murri Men's Group, Christian Meditation, Spiritual Companioning and am a past chair of the Parish Pastoral Council.
What is it about your Catholic faith that calls you to do what you do?
The power of the Holy Spirit — the Presence that disturbs — the inspiration of St Paul and the call of Pope Francis in Evangelii Gaudium.
The Spirit inspires me with a confidence in my God-given gifts and authority. My empowered heart can restore a spiritual energy to others.
"It is impossible for us not to speak about what we have seen and heard" [Acts 4:20].
"His fire fills my soul. I cannot be quiet! I will not be quiet!" [Jeremiah 20:9].
If not me, then who will proclaim the Gospel?
If not now, then when will the Gospel be proclaimed?
If not the truth of the Gospel, then what shall I proclaim?
If not with others today, then with whom shall I share the Gospel?[2]
How comfortable are you talking about your faith to others? How do you approach it?
How eagerly I embrace it!
I was called, equipped, sent to share, to witness to others by using my God-given gifts, which are never for our benefit alone, but are given to us for the benefit of others as well. To evangelise, to proclaim the Good News, emanates from my heart and is expressed in words inspired by the Spirit. I am a pilgrim travelling light, doing what I'm called to do, serving God by serving others; I do so with a deep sense of knowing. The Spirit instructs, leads and uses me.
What's the best piece of wisdom you like to share?
Through my sharing, the shadow of the Cross will fall everywhere, and the Holy Spirit is free and invincible. The message I convey is that God loves you – unconditionally, absolutely, totally, unreservedly, unquestionably, and unlimitedly. There is no catch, no fine print, no strings attached, no ifs or buts. God just loves you! You are always and forever forgiven.
Links: Lost and Found: Ministry of the Shepherd
Words: Terry Lees, Sharon Brewer
Images: Supplied
[1] A Question of Colour: My Journey to Belonging is the account of Pattie's experiences as a 'fair-skinned' Aboriginal which recounts her survival following a decade of abuse as a ward of the State. Written with her son Adam C Lees, it has been recently shortlisted for numerous literary awards.
[2] Adapted from the Prayer for the New Evangelisation