Australian Catholics are being invited to take part in a unique national evangelisation conference later this year, to be hosted online by the Australian Bishops Commission for Evangelisation, Laity and Ministry.
Planned for October 20-22, the conference will feature a wealth of content relevant for laity, clergy, religious, Church workers, ministry leaders, parents, spouses, single people and young adults.
The conference will be led by the National Centre of Evangelisation, with support and input from various agencies of the Australian Catholic Bishops Conference. It brings together previous national gatherings on lay ecclesial ministry, youth ministry, evangelisation and ministry for women and men.
Malcolm Hart, director of the National Centre for Evangelisation, said the conference aims to stimulate discussion about evangelisation at the local level.
"The conference seeks to promote a common understanding of evangelisation, to form laity in the Church and to empower conversations and networks around evangelisation," he said.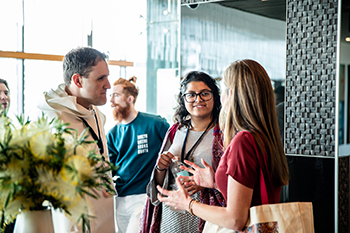 "There's a wisdom in learning from the actions of the Holy Spirit working around the country, rather than just one particular perspective, so if we can promote a national understanding of evangelisation, it will create a better dynamic for learning, formation and growth in ministry."
To enable more people and parishes to engage with the conference, the decision was made to use an online format, rather than a typical Church conference held in-person at a designated location.
"Most national conferences are only available to those who can afford to travel to a location and participate, whereas this online conference is about local discussion and local engagement and evangelisation," Mr Hart said.
"The goal is to have as many people as possible at the table or in the room talking about evangelisation and how they can do that locally.
"We're hoping the conference will be more accessible and more affordable for everyone in the Church in Australia, whether they're in a rural or urban setting, no matter the resources they've got or the work that they do."
All material presented during the conference will also be made available to registered participants for a period after the event, enabling people to explore other topics of interest and further increasing accessibility.
Mr Hart said the evangelisation conference would build upon the experience and outcomes of the second assembly of the Fifth Plenary Council of Australia in July, as well as the release of the national report for the General Synod on Synodality, due in August.
The conference program, which can be found online, includes five "Plenary" sessions, which will include prayer, music and a live-streamed address on a key topic. Each session will be hosted in a different geographical location around Australia, making it a truly national experience.
The opening plenary session will reflect upon the outcomes of the Plenary Council, while the other sessions, which will be held in the morning and evening of each day, will be based on themes of evangelisation, encounter, discipleship and mission.
Mr Hart said the conference would focus on inspiring and building community, rather than simply conveying information.
"Our plenary sessions are focused on inspiration and animation of all Catholics, not just those working for the Church or in ministry roles," he said.
"It's about trying to create a space where we can all pray together, be inspired and hear the Holy Spirit at work in all of our lives."
Following the plenary sessions, participants will be able to choose from five keynote sessions, before selecting from a range of conversation-starters for local dialogue. All content will be based on one of two themes – ministry within our communities or mission in the world.
The keynote sessions and conversation-starters will look at the practical side of evangelisation and living out one's Catholic faith in the world, Mr Hart said.
"They'll be about how are you actually living your faith as a family, as a man or woman in the workplace, as a child at school, in sport, in going to the movies, in living everyday life," he said.
"The conference is for everyone and there's something in it for everyone to think about how they are living their life as a disciple of Jesus."
For parishes, Mr Hart said the conference would provide an ideal opportunity to come together and talk collaboratively about how to become better evangelisers in daily life.
"The bishops are looking at greater collaboration between different ministries and initiatives at every level of the Church," he said. "So those responsible for youth ministry, children's ministry or sacramental programs should all be at the same table and not work in silos locally or nationally."
For more information about the national evangelisation conference, visit www.evangelisation.catholic.org.au. Registrations are anticipated to open in the coming weeks.
Images: Participants at the Australian Catholic Youth Ministry Convention in 2018.
Words: Matthew Biddle