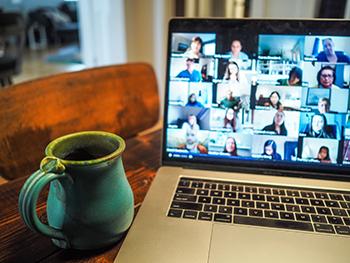 COVID-19 has caused us to pivot in nearly every aspect of our lives. Lockdowns and limitations on travel have required us to shift many of our daily activities to an online version of what we would normally have done in-person.
"Gathering", in person, is integral to what it is to be Catholic. The fact that many of us have been unable to attend Mass has been one of the real lows for Catholics during these COVID times. Limitations on gatherings for baptisms, weddings and funerals have caused much sadness for families. In Australia, where there has been a rich tradition of Catholic conferences, organisers have been forced to be innovative, courageous and flexible as they moved from gathering in-person to online.
Last year, the Bishops Conference was hoping to gather 100-200 men in Sydney for a first national gathering of men's ministry groups. Forced to move online because of COVID-19, organisers pre-recorded sessions and encouraged groups to gather locally. The reach of this online content saw the gathering exceed expectation and reach more than 1000 men, establishing many new local men's groups. In 2021, this same approach has been flexible while much of the country has been in lockdown, allowing local groups to gather either in person or online anytime from July to October.
From 8-10 July 2021, we also saw the Alive in the Spirit conference, a joint effort of three lay pastoral ministry groups: Pastoral Ministry Network, Mission Planners Network of Oceania and the Christian Initiation Australia Network. Originally expecting 700 participants for the scheduled July 2020 conference in Wollongong, the event was postponed until July 2021, and after moving online, saw more than 1000 register for the event.
The Mission: One Heart Many Voices Conference, hosted by Catholic Mission and Catholic Religious Australia, hosted over 500 participants from 1-3 September 2021 with an extensive list of international and high-profile presenters.
Each conference, along with the many other online initiatives now being offered, is developed based on each organising body's existing audience, historical approach to conferences, resources available and desire for post-event impact.
Alive in the Spirit organisers first researched local and international online conferences, identifying the need for excellent technical arrangements and extensive communication with participants to allay any fears about gathering in the virtual space. They also identified the need for workshop presentations to be recorded with a strict set of guidelines to ensure quality. Such attention to detail brings with it financial commitment. Where conferences once had venue costs, there are now costs for digital platform establishment, studio set up, videography and user support.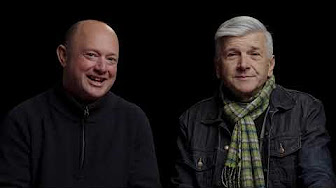 The online conference has also made our globe smaller and presenters more accessible. Previously, international and high-profile guests were drawcard speakers and limited to one or two because of the cost of time and resources for their attendance. Now, such participation has significantly increased with speakers not required to make large journeys to appear at conferences; now only logging in for a presentation and dialogue before continuing with their daily work. This can be as simple as a 30-minute worship session, such as the one recently hosted by US musician Steve Angrisano on Parramatta Diocesan website, "The Well". Or, as at One Heart Many Voices, which showcased a variety of international and high-profile speakers in keynote presentations, dialogue sessions and workshops, including Chiara Porro, Ambassador of Australia to the Holy See. Ms Porro earlier in the year held her own international online webinar with Vatican staff for international Women's Day, "An equal future in a COVID-19 world: Champions of Change Choosing to Challenge".
For many years, conferences have also attempted to record keynotes and workshops with varying success, often streaming them live or releasing online after the event. Nearly all recent online events have been able to offer their content in an ongoing way either via registration subscription or freely online. This access is related to registration fees and financial ability of the organising body.
As one example, the Alive in the Spirit conference asked for a minimal registration fee, which gave participants access to live plenary sessions and pre-recorded workshops for a period of six months. The Mission: One Heart Many Voices conference asked for a higher registration fee for access to live plenary sessions and interactive panels discussions, with this content now freely available via their website and YouTube. The Bishops Conference's men's gatherings did not offer any live content or interaction but provided four freely available pre-recorded sessions. Each product differed for its audience, purpose and ongoing interaction.
What online conferences may lose in an experience of community and communion, they gain in solidarity, subsidiarity and ecology. The offering of online conferences provides access to much-needed formation and support to more Catholics.
We firstly think of those in rural and remote parts of Australia who cannot afford the time or finances to travel to national events. Many conference evaluations speak to this gift of feeling included and connected, despite the vastness of our country. The inclusion and equal formation of Catholics across the country is critical. In these COVID-19 times, many Catholics living in large urban centres are experiencing the isolation that many rural and remote Catholics communities live with every day.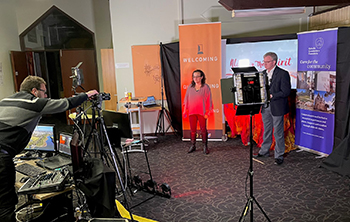 A common practice for most large events is to have an ecological plan to minimise waste, emissions, power, food, etc. Moving a conference online has a huge ecological benefit. These reductions go hand in hand to alleviating financial stresses to individual and communities with no need for travel or accommodation expenses, further reducing time away from family and work. An online approach builds toward a more mindful, ecological approach to economics and lifestyle.
The online conference experience over the past 18 months has also taken us quickly forward in building Australian Catholic identity and collecting Australian Catholic content. Previously reserved to books or published articles, the Australian Catholic storybook is now expanding digitally. Together with a growth in podcasts and other digital formats, the online conference is expanding our documentation of experiences and wisdom in sharing the Gospel in an Australian setting. A challenge moving forward is how this content is collated, presented and easily viewed.
As Catholics it is important that we gather. Online gatherings and meetings have shown that we can sustain relationships, but can we establish new relationships? How do we replace meeting people at the registration desk, in line to get a coffee, sitting next to someone in a workshop or sharing a meal together? We can pray and even have online Mass, but can we be truly in communion? Local gatherings can supplement online gatherings, but it is often the experience of diocesan, national or universal communion which inspires us to go and live out our new learnings.
Catholics have a strong desire for community and gathering, even if only virtually. Twelve months ago, some might have declared that large conferences are a thing of the past. After 18 months of significant lockdowns and isolation, the desire and necessity to gather is now higher than ever, especially among the young Church.
The future of Catholic conferences may be up for interpretation depending on audience, purpose and resources available. However, an integrated approach is required to manage the need to gather in community and make the experience more accessible and empowering for all Catholics.
References:
https://aliveinthespirit.com.au
https://2021.mohmv.com.au
https://nce.catholic.org.au/catholicmen
https://thewell.org.au/video/worship-wednesday-all-stars-feat-steve-angrisano/
https://www.youtube.com/watch?v=0Lbt_ns1f3E&t=2s
Images: Unsplash, Australian Catholic Men's Gathering, Alive in the Spirit (supplied)
Words: Malcolm Hart, Sharon Brewer