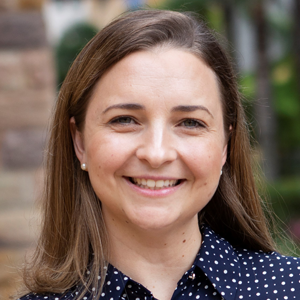 Leading together: a co-responsible, evangelising Church
Co-responsibility recognises that all Catholics are called, through our baptism, to become "missionary disciples" and take our place in serving the evangelising mission of the Church. If we are to build parishes that are "centres of constant missionary outreach", this requires not just a Parish Priest plus one or two leaders, but teams of leaders whose strengths and giftedness complement each other. As the Church looks to the future, we will need leadership teams of clergy and laity working together because our hopes and our dreams are too big to realise on our own.
Teresa McGrath has been involved in ministry in the Church for 19 years and is currently the Associate Director, Parish Leadership for the Archdiocese of Brisbane. In this role, Teresa works with parish leaders to create flourishing parishes of missionary disciples. As a lifelong learner, Teresa brings her studies in management, governance, leadership and theology together with the experiences of the parishes she works with to provide insights and possibilities for leadership in the Church into the future.
SESSION TIME:
Saturday, 22 October @11.00am AEDT