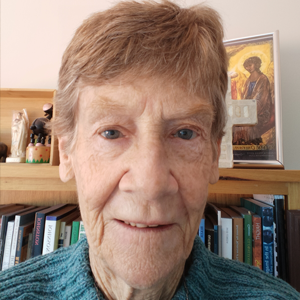 The Conviction of a Life in Jesus' Mission
I will look at my experience in the Philippines of being in solidarity with those suffering injustices which was ruled as not appropriate to "missionary" work. Jesus when asked what is the greatest commandment, he quoted Deut. 6: 4–5 and Lev. 19:8, "Love God and love your neighbour". What does it mean to preach the good news of the kingdom today? How do we make "the joys, the hopes, the griefs and anxieties of the people of this age, especially those who are poor", those of " the followers of Christ" (Gaudium et Spes #1)?
Sr Patricia Fox grew up in Box Hill, Victoria, attending schools run by the Sisters of Our Lady of Sion. After completing teacher training, she joined the Sisters of Our Lady of Sion in 1969. Sr Patricia has been a community worker, assisting youth and single mothers in need. After completing a Bachelor of Laws and a Bachelor of Jurisprudence, Sr Patricia worked in Government Legal Aid and at the Broadmeadows Community Legal Centre before going to the Philippines in 1990, where she worked among various groups until 2018. She is a member of the Regional Leadership Team of the Congregation, is involved in solidarity work for the Philippines and is on the Victorian Committee of Pax Christi. Recently, Sr Patricia has become a member of a sub-group of Australian Catholic Religious against trafficking in Humans (ACRATH) which links with the Australian Catholic Migrant and Refugee Office (ACMRO) encouraging dioceses and parishes to be more involved with seasonal workers in their areas.
SESSION TIME:
Friday, 21 October @7.10pm AEDT