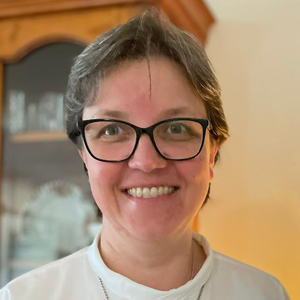 Relationship is the key - Evangelisation starts with me
This workshop offers some practical tools to assess where we are on our personal journey with God and how do we build the meaningful relationships with others which will make us passionate about our faith and create life-giving communities. We cannot evangelise until we discover, embrace and live our baptismal call to mission. Accompanying and formation for all Catholics to a deeper relationship with Jesus Christ starts in understanding the power and the depth of our relationship with God and one another.
Sister Grace was born in Poland where she entered the Congregation of the Sisters of the Holy Family of Nazareth. Her ministry in Poland included teaching and pastoral work in schools and parishes. Since her arrival in Australia in 2004 she has been engaged in ministries to families in the field of childcare and aged care. In 2009, Sister Grace moved into pastoral work as Youth Minister and Sacramental Coordinator in the Diocese of Parramatta. In 2021, she commenced her new role as Head of Formation for Mission within the Diocese of Parramatta. From 2011-2016, Sister Grace assumed the role of the Provincial Leader, while continuing her part-time engagement in ministry. She was a member of the Executive Committee for the Plenary Council in Australia. Her hobbies include cooking, baking, blogging and podcasting. She loves sharing her passion for Christ and His Church with others.
SESSION TIME:
Friday, 21 October @11.00am AEDT