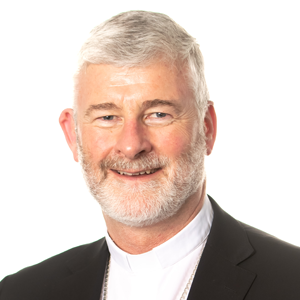 Plenary Session: Launching out into the deep
In the opening Plenary Session of Evangelise, Bishop Shane Mackinlay will discuss the future for the Church in Australia after the Plenary Council, before a panel of local Catholics will share and respond in light of local realities. This session will be hosted by the Diocese of Sandhurst.
Bishop Shane Mackinlay was ordained a priest for the Diocese of Ballarat in 1991, and has served as a lecturer at Australian Catholic University, Ballarat, and Catholic Theological College, Melbourne. In 2012, Bishop Mackinlay was appointed associate professor by the University of Divinity. In 2019, Pope Francis appointed Bishop Mackinlay as the Bishop of Sandhurst. Known for his good strategic ability, deep faith, and capacity to engage the culture, Bishop Mackinlay is also the vice-president of the Fifth Plenary Council of Australia, and will be one of the Australian delegates to the forthcoming Synod for a Synodal Church.
SESSION TIME:
Thursday, 20 October @5.45pm AEDT