Recently acknowledged by the Vatican Dicastery for Laity, Family and Life as promoting "best practice" in lay formation, Leadership for Mission is a joint initiative of the Australian Catholic bishops' National Centre for Evangelisation and Australian Catholic University with the support of Catholic Mission.
It is designed by and for women who are inspired by the Gospel vision of justice, freedom and the dignity of the human person. The program offers both academic and formative opportunities for young Catholic women aspiring to be leaders in their chosen fields of endeavour.
"Leadership for Mission to me is encountering Christ in the face of Catholic women leaders through immersion in academic study and mission. I'm deeply grateful for the knowledge and collaboration and I strongly recommend it to other women!"
Natalia Teguhputri
Leadership for Mission Graduate, 2018
PROGRAM STRUCTURE
This is a part-time program structured across three residential sessions in North Sydney, supported through ACU's online learning management system. Airfares, accommodation and meals are provided.
The academic component of this program consists of a total of 40 credit points (cp), comprising three compulsory units (10 cp each) along with various exposures and experiences and a purposefully tailored introductory module that provides theological frameworks for learning across the other units (10cp). Upon completion, students will be awarded a Graduate Certificate in Theological Studies by ACU's Faculty of Theology and Philosophy.
PROGRAM SCHEDULE
13 February 2021 3 – 6pm Introductory Formation online module (first formal gathering and introduction to the academic and formation team. Includes dialogue with all participants)
18 – 21 March 2021 Unit 1: Interpreting the Bible for Leadership and Mission (Residential)
19 –22 August 2021 Unit 2: Theology for the Future: Reimagining Leadership (Residential)
17 – 20 March 2022 Unit 3: Theology as Leadership for Mission (Residential)
Participants will gather for the September/October 2022 graduations (date to be confirmed) and participate in a final formation session.
Necessary provisions will be put in place if COVID-19 restrictions prevent the residential sessions taking place.
ELIGIBILITY
This program is open to women aged between 25 and 35 with diverse personal and professional experiences from across Australia. As this is a graduate program, participants will need to have successfully completed an undergraduate degree in advance.
APPLICATION PROCESS
Applicants are required to provide a one-page curriculum vitae, a copy of their academic transcript and a one-page statement reflecting on their:
personal commitment to the Catholic faith
commitment to improving the quality of life for others
potential to engage in critical thinking about their own religious tradition
communication and interpersonal skills
capacity to engage in a leadership role
They will also be required to submit two referee reports – one of whom should be a Catholic in a key leadership role in their parish or Church organisation.
Applications are to be submitted to Ms Sharon Brewer at This email address is being protected from spambots. You need JavaScript enabled to view it.. With limited places left for the 2021/2022 program, applications will be received and interviews conducted until all places are filled. We encourage you to submit your application as soon as possible.
PROGRAM COST
This is a sponsored program. However, participants will be required to contribute $4,500 towards the cost of the program. Students will be invoiced in three instalments of $1500, payable at the commencement of the three units. Queries relating to payment can be discussed at the interview stage.
PROGRAM PARTNERS
Collaborating partners of the Leadership for Mission program include:
Australian Catholic Bishops Conference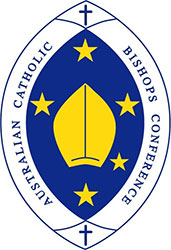 "For the good of society as a whole, it is critical that we raise up Catholic women leaders who will bring the Good News of Christ into the multitude of forums that they enter. This graduate program provides an opportunity for a group of young women to receive excellent academic and formative input, as well as the chance to build strong and supportive relationships with other Catholic women."
Bishop Michael Morrissey
Bishop Delegate for Women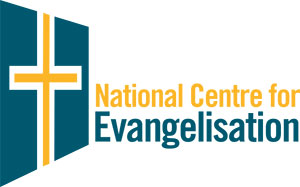 The Leadership for Mission program is coordinated by the ACBC's National Centre for Evangelisation
Australian Catholic University
"The young women in this course are inspiring. They are influencers within and beyond the Church, within and beyond Australia, committed to a way of being in the world that is bold, intelligent, contemplative, practical. Want to hear what women see, know and feel when they think about leading for mission today? This is the space to learn with and from each other."
Dr Janine Luttick
Lecturer Biblical Studies
Australian Catholic University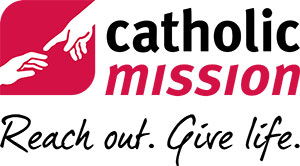 "The work of mission engages everyone in the Church. In Paragraph 103 of Evangelii Gaudium Pope Francis states 'we need to create still broader opportunities for a more incisive female presence in the Church'. This structured program of formation, specifically for young women, lays the foundation for a greater involvement of women in leadership and decision-making at all levels of the Church."
Fr Brian Lucas
National Director, Australia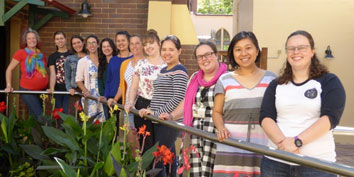 FURTHER INFORMATION
Details relating to the academic components, the application process, sponsorship and participant's contribution can be found here.
Please note: This program was due to commence in 2020, but due to COVID-19 restrictions has been deferred until 2021.
Further information: Sharon Brewer, This email address is being protected from spambots. You need JavaScript enabled to view it. or 0466 013 534
Potential sponsors or agencies wishing to support employees through this program are also welcome to contact Sharon.
To read Natalia Teguhputri's story go here.
Images: Supplied by ACU and NCE