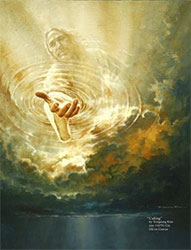 Following the release of Gaudete et Exsultate, Shane Dwyer, Director of the National Centre for Evangelisation has written a series of reflections on this third apostolic exhortation from Pope Francis. These are being released through the Facebook pages of both the NCE and the Catholic Enquiry Centre and will eventually be placed on the NCE blog.
Below is a sample of the reflections.
"Rejoice and be Glad". With these words Pope Francis begins his latest offering to all members of the Body of Christ, and to all people of good will. Over the coming days we will unpack selected passages from this beautiful document. I encourage you to read it yourself. But if you are time poor, having it presented in easily digestible portions might be useful.
In number one we read: "The Lord asks everything of us, and in return he offers us true life, the happiness for which we were created. He wants us to be saints and not to settle for a bland and mediocre existence..."
This sets the scene for the underlying conviction presented in this document: that you have been invited into God's life and happiness, no matter who you are, no matter how inadequate you may feel, no matter how far from God you might currently experience yourself as being. Say 'yes' to God's invitation and experience the life for which God has created you.
To read 'Rejoice and Be Glad' click here.
Shane Dwyer
Director
National Centre for Evangelisation
April 2018