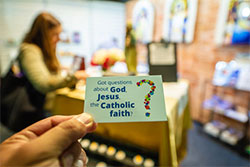 Mind, Body, Spirit Festivals
Some years ago in an earlier iteration of the NCE we became involved in the MBS Festivals. It was, and is a concrete way for our Catholic evangelisers to be in the secular marketplace. In the last few years Sydney Archdiocese has taken on this ministry and it has gone from strength to strength. Recently the Catholic Weekly shared a story about the latest Festival. Click here to read more.
Festivals also take place in Melbourne and Brisbane. It is the hope of the NCE that we could join forces with teams in these cities and continue the good work undertaken by Sydney Archdiocese.
By the way, if you like the card shown in the picture above, and think it might be helpful in your area of evangelisation, then please make contact with us and we can supply you with whatever you require – This email address is being protected from spambots. You need JavaScript enabled to view it..
Article used with the permission of Archdiocese of Sydney, July 2018.