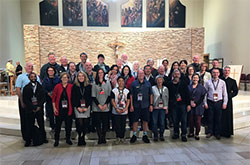 Over 40 delegates travelled from Australia to Halifax, Canada to take part in the Divine Renovation (DR) 2018 Conference. Delegates were given the opportunity to delve into the fundamental principles of the DR ministry: the primacy of evangelisation, the need to develop strong parish leadership and the empowerment of the Holy Spirit. Delegates from across Australia joined with 650 participants from a number of countries, including France, Germany, Great Britain and the US. The Conference was live streamed to over 6000 viewers across the globe.
The trip to Halifax also offered delegates the opportunity to participate in a full day Alpha Conference. The use of Alpha as a way of introducing the kerygma has seen a steady rise over the last few years, especially in the Catholic Church.
About half the delegates also travelled to Baltimore to experience firsthand the 'Rebuilt' ministry. Like St Benedict's Parish in Halifax, the Church of the Nativity, Timonium, Baltimore has seen enormous growth since actively committing to a program of parish renewal.
The NCE was pleased to join this delegation and to meet with parishioners across Australia who are dedicated to moving their parish from maintenance to mission.
Useful links: