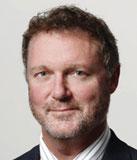 A while ago I was visited by a couple of very nice Jehovah's Witnesses. The conversation started out promisingly enough – I was asked if I believed in God. When I said 'yes' I was told that that was surprising as (according to my guests) most people today are agnostics. However, I was reassured to learn that I am not 'most people.'
We were off to a good start until I was invited to agree that the world is in a bad state and that we should be worried because God is coming back in the near future to give us all a good fright and a kick in the pants. I tentatively noted that I didn't agree. My guests wondered how a person could believe in God but not in the fact that God is angry and wants to punish us. Recognising that the two women were quite perplexed to find someone like me, I felt the need to explain myself.
I put it this way...
To be fixated on the thought that God has a future plan for dealing with the world is to fail to recognise God's current plan. The Kingdom of heaven is among us. If we're attentive, we see signs of God at work all over the place. Every act of kindness and compassion, every parent who wants something better for his or her children, every teacher wanting to pass on knowledge and an appreciation of life, or every person committed to truth, goodness and beauty, is inspired by the grace of God at work in their lives. They may not recognise that they're working in accord with God's plan for the world, but they are. Every act of kindness and mercy is a participation in the life of God and performed in response to, and in the strength of, God's grace.
However, that does not mean there is room for complacency. While God's will shall be done and God's plan will be achieved in the world, we can't assume that God's plan is coming about in us. We need to cooperate with God's grace and ask for God's healing mercy when we fail.
The question is: will our lives reveal the presence of the kingdom or obscure it today?